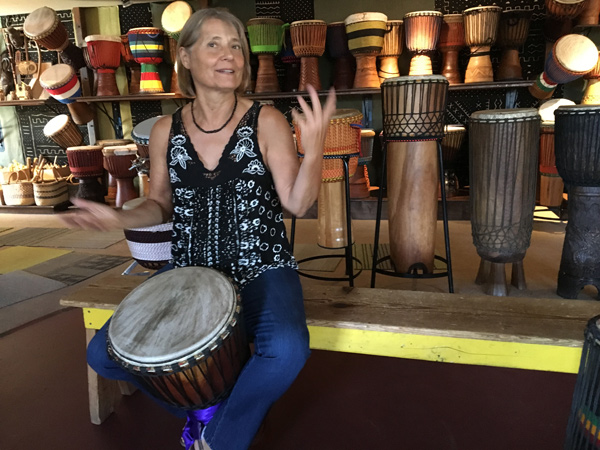 Singer/songwriter/percussionist Pashyo Sarkin is originally from Vienna, Austria. She studied dance at the Vienna Volksoper, African drumming in Berlin and vocals/piano at El Camino College. She shares her love for music and dance with children and adults of all ages.
She is known for her African drumming workshops. Being a white woman from Vienna her passion for African rhythms is difficult to explain. Was it that black Jazz dance teacher who inspired her to become a dancer? Or was it the African American percussionist from the Bronx who inspired her to take her first drumming lessons? It seems that your taste for music doesn't depend on the color of your skin. It seems that music is a love affair and, yes, opposites attract each other!
Besides drumming, Pashyo writes songs in English about love, relating and the ecstasy of living. At shows she sings and accompanies herself on the keyboard. Styles vary from jazz to pop and lyrical. These songs have been in the making for many years and are happy to be shared and heard.
Yes, and there are a few other things on this website...check it out!